Announcing the appointment of Dr. Amandeep Shergill as Chief of Gastroenterology at the SF VA Health Care System
Dear Colleagues,
We are delighted to announce that Dr. Amandeep Shergill has accepted the position of Chief of the Division of Gastroenterology (GI) for the San Francisco VA Health Care System (SFVAHCS). Amandeep is a Professor of Clinical Medicine and has served as interim GI division chief since 2019.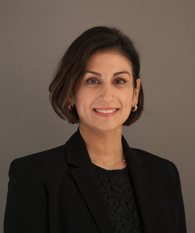 Amandeep is a proud product of the UC system. She graduated Summa Cum Laude from UCSD and received her medical degree from UCLA.  After completing her internal medicine residency at UCSF in 2004, she remained here for her GI fellowship training. She subsequently received a MS in Environmental Health Science with a focus on ergonomics from UC Berkeley. 
We were delighted when Amandeep joined the VA's GI division in 2007. She quickly established herself as a superb administrator, serving as VA GI Clinic Director from 2007-2013, Director of Endoscopy since 2012, and Fellowship Site Director since 2013. In these roles, she helped develop programs in inflammatory bowel disease, complex mucosal resections, and advanced endoscopic procedures, programs that now provide tertiary care to veterans throughout Northern California. She also distinguished herself in the educational realm, in part by creating an endoscopy core curriculum, including the use of simulation, for our GI fellows. She is widely known as a valued mentor and a steadfast advocate for a more inclusive, diverse fellowship selection process and workplace environment.
Amandeep is also widely known for her leadership and expertise in the field of ergonomic endoscopy, which involves evaluating work-related musculoskeletal injury as it relates to endoscopy bioengineering— an area that has particular relevance to women in GI. She has received several independent awards to support this work and has lectured around the world on the subject. She has over 80 scholarly publications, focused especially in areas of ergonomics, endoscopy in IBD, endoscopy quality metrics, and optimal endoscopic techniques. She currently is Associate Editor for Gastrointestinal Endoscopy and a member of the American College of Gastroenterology's Ergonomics Task Force, the Global Interventional IBD group and the American Society of Gastrointestinal Endoscopy (ASGE) Women's Committee. She is a past member of the ASGE Standards of Practice Committee and a prior ASGE Postgraduate Course director.
We thank the members of the search committee, chaired by Dr. Heather Nye, Professor of Medicine and SFVAHCS Associate Chief of Medicine. Their unwavering commitment to this successful recruitment is deeply appreciated.
Please join us in congratulating Dr. Amandeep Shergill on her new role as GI division chief and thanking her for her selfless service these past three years as interim chief. 
Sincerely,
Ken McQuaid, MD
Professor of Medicine
Chief, Medical Service, SFVAHCS
Vice Chair, Department of Medicine, UCSF
Robert M. Wachter, MD
Professor of Medicine and Chair
Department of Medicine, UCSF