Division of Infectious Disease
About                       
The San Francisco VA Health Care System's Infectious Disease Section consists of five core faculty members, all of whom have joint appointments at the University of California, San Francisco, and affiliated faculty in the UCSF Department of Pharmacy, Laboratory Medicine, Nursing and Psychiatry who are based at the SFVA.  
We also work with a group of affiliated board certified Infectious Disease Specialists who provide care to our patients, including UCSF-trained ID physicians from Zuckerberg San Francisco General Hospital, the California and San Francisco Departments of Public Health, as well as affiliated faculty in the UCSF School of Pharmacy, Department of Laboratory Medicine, and ID physicians with primary appointments at ZSFG, San Francisco and California Departments of Public Health. While our academic interests are diverse, including clinical research, basic science research and education, we are committed to provide outstanding infectious disease care to patients at the SFVAHCS.

To view our overall Division website, please go here: UCSF ID WEbsite
Education
The San Francisco VA (SFVA) is one of three primary teaching sites for the University of California, San Francisco (UCSF) Infectious Diseases Fellowship. There is an ID fellow from UCSF assigned to the inpatient service year-round whose primary responsibility is to work on the Inpatient ID Service, and who also has clinic responsibilities. 
Frequently there are also medical, pharmacy, and podiatry students who rotate on the inpatient ID service. All UCSF ID Fellows also work in the ID Clinic at the VA where they are trained in HIV Primary Care and other aspects of outpatient Infectious Disease Medicine. UCSF Psychology Residents and clinical psychology trainees who are participating in a VA-based training program also rotate through the clinic. UCSF Medicine Residents and Students also rotate through our clinic. In addition, we usually also support a second-year ID fellow who is actively working on medical research projects in clinical infectious diseases under the supervision of faculty at SFVA and UCSF. 
The University of California, San Francisco offers outstanding fellowship training in Infectious Diseases.
Our goal is to train leaders in the field of infectious diseases. We define leaders broadly, which includes researchers in academics and industry, public/global health leaders, health systems leaders in infection prevention and antimicrobial stewardship, and clinician educators. The three main pillars of our training program are:
Clinical learning occurs through complementary experiences at three main sites - UCSF Medical Center, Zuckerberg San Francisco General, and San Francisco VA Medical Center. 
Research is supported through multiple NIH sponsored training grants (T-32s). Opportunities are vast and include Global Health in HIV, TB, and malaria; Immunology and Microbial Pathogenesis; Antimicrobial Stewardship; Molecular Diagnostics; Medical Education, and many others.  
Mentorship is critical to the success of our fellows. Fellows are provided Faculty Coaches in their first year and in their later years have both dedicated research mentors as well as additional career mentors
Learn more about the ID fellowship here: ID Fellowship
 Faculty
  VA-AFFILIATED
Robert Daroff, MD, ID Clinic Psychiatry 
Lynn Pulliam, PhD, Chief, Microbiology 
Mai Vu, PharmD, Infectious Disease Clinical Pharmacist 

Theora Canonica, PharmD,

Antimicrobial Stewardship Program Manager

Will Hua, PhD ID Clinical Psychologist
Elda Kong, MPH, MS, AGNP-B  Nurse Practitioner Infectious Disease Clinic
Non VA-Based Faculty
Shereen Katrak, MD

Ragesh Varot Kangath, MD
Janice Louie, MD

Julie Stoltey, MD

Lisa Winston, MD
Patient Care
We offer a variety of clinical services, including inpatient ID consultations, and a variety of outpatient services, including: outpatient infectious disease consults (including consults for pre-travel vaccination, management of chronic infectious disease problems including latent TB infection, and follow-up of hospitalized patients).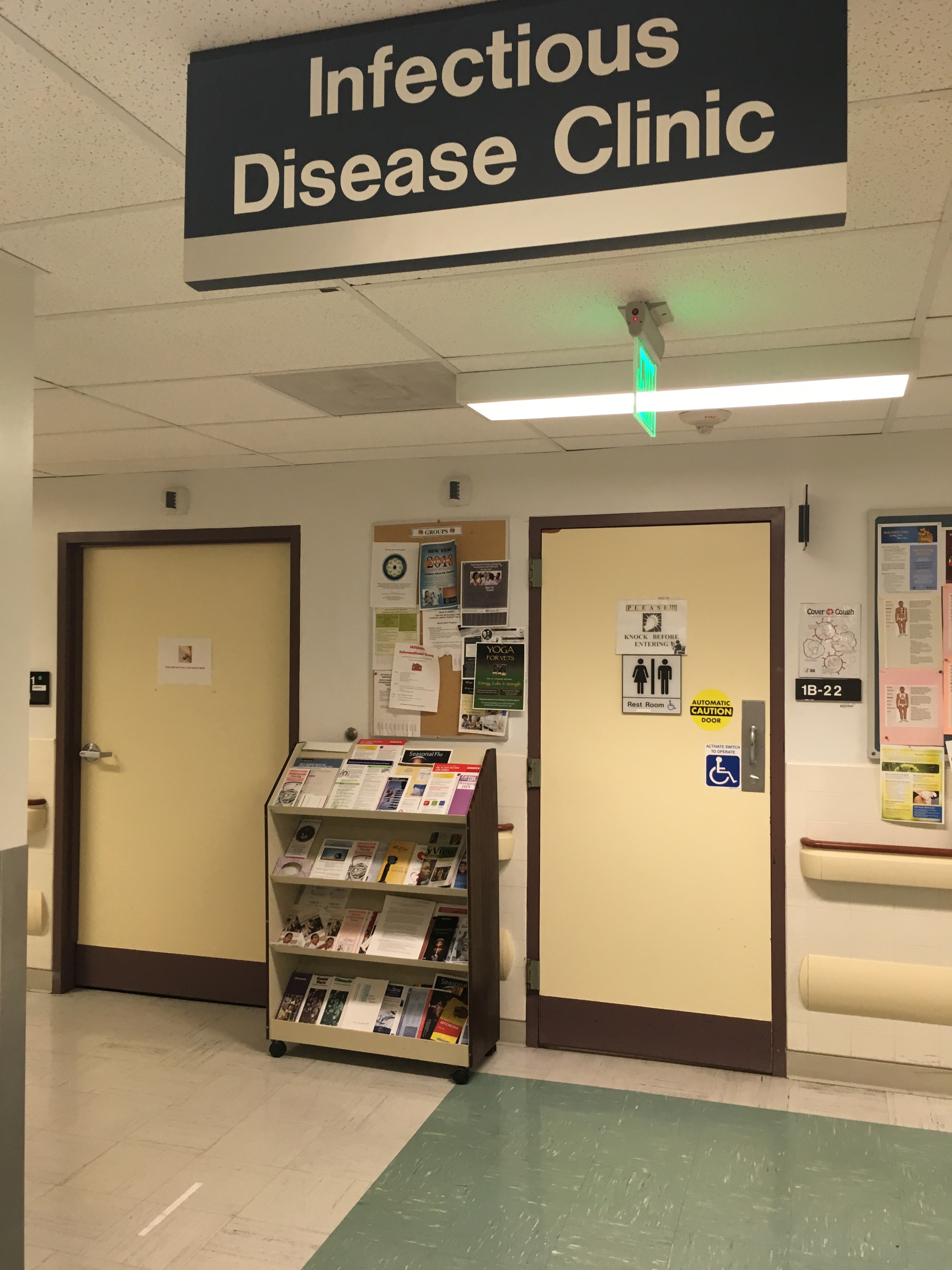 In addition, we provide HIV primary care to approximately 400 patients across Northern California. Our clinic staff recently received a Letter of Commendation for services to HIV patients in the Bay Area by the Alexander Hamilton Post 448 of the American Legion. The ID Clinic provides multidisciplinary care to patients with HIV; in addition to our infectious disease faculty members, on site staff includes nurse practitioners, nurses, staff pharmacists, social workers, registered dietician, psychiatrists and clinical psychologists. Most recently we have successfully treated chronic hepatitis C for most of the veterans in our clinic who were eligible for treatment. We increasingly are providing HIV care to an elderly population with multiple medical and psychosocial problems in addition to HIV. In addition, in 2014 we began to offer HIV Pre-Exposure Prophylaxis with Truvada to Veterans in Northern California and are currently following approximately 150 patients in our HIV PrEP Program. We also offer HIV care to outpatients at the Downtown VA Clinic. 
The ID Section also provides ID E-Consults (for the Medical Center and affiliated VA clinics). Our faculty also provide clinical and administrative oversight for the SFVA Antibiotic Stewardship Program, the SFVA Infection Control Program, and the SFVA Home IV Therapy Program. 
Infectious Disease Clinic Contact information: 415-750-6902
Infectious Disease Section Administrative information: 415-221-4810 x23846
Members of the ID section also play key leadership roles in many SFVAHCS programs, including the Infection Control Program, Antimicrobial Stewardship Program, and Home Paraenteral Therapy Program.
Research
The SFVA Infectious Disease Section has a long history of research interests in multiple areas of Infectious Disease, with a particular emphasis on laboratory-based, translational and population based research in HIV Disease, and research related to bacterial pathogenesis. 
Our faculty researchers receive support from the VA, the National Institute of Health, and from private organizations. We also support research administratively on a national basis (many of our faculty have served on NIH Study Sections as Grant Reviewers, participate in National Treatment Guidelines for HIV and HCV, and participate in local research organizations at UCSF and the VA, including the UCSF Center for AIDS Prevention Studies, UCSF AIDS Research Institute and the UCSF Committee on Human Research).  
Faculty at the VA whose primary activity is research in the ID Section:
More Information & Helpful Resources