SFVA Pulmonary / Critical Care / Sleep Medicine
About
The San Francisco Veteran Affairs Medical Center and Health Care System is dedicated to excellence and innovation in the care of veteran patients with lung diseases, critical illness, and sleep disorders.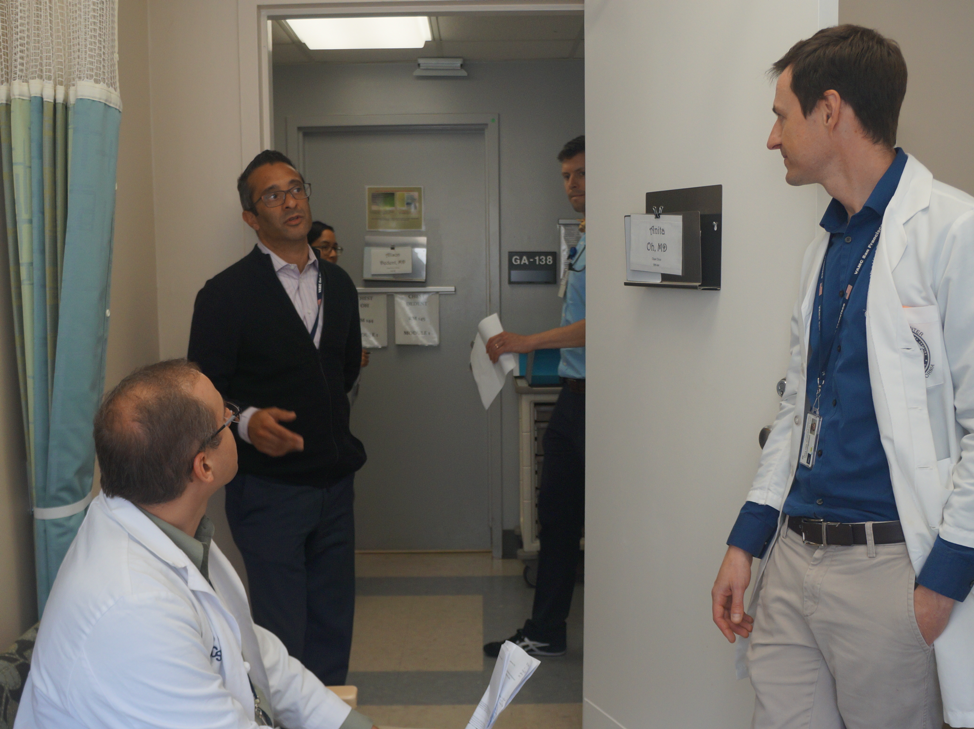 We offer a full spectrum of pulmonary and sleep, diagnostic and therapeutic services and are deeply committed to providing the highest quality care to our veterans.  Patients with pulmonary and sleep issues are evaluated in outpatient clinic appointments, inpatient consultations and, in appropriate cases, video telehealth and electronic consultations.   The outpatient Chest Clinic at the SFVAMC is the second busiest (after Dermatology) specialty clinic at the SFVAMC and sees over 200 patients per month.  We have a dedicated bronchoscopy suite on site at the SFVAMC for routine and advanced diagnostic and therapeutic bronchoscopy, including endobronchial ultrasound and electromagnetic navigational bronchoscopy.  In 2013, the SFVAMC was chosen to be one of 8 VA sites nationally to initiate a Lung Cancer Screening Program.  We continue to grow this program and have screened over 1,500 veterans in Northern California for lung cancer.  The SFVAMC has an expanding Sleep Program with a Board-Certified Sleep Physician and dedicated sleep technicians, a sleep Nurse Practitioner and a sleep Respiratory Therapist.  A new multi-bed Sleep Center will be completed in 2018.  Pulmonary physicians also are the medical directors of the SFVAMC ICU, a combined MICU, SICU, and CCU.   In our multi-disciplinary team, we provide complex care to critically ill patients and are the tertiary referral center for critically ill veteran patients in Northern California.    In addition to clinical excellence, we are committed to promoting excellence in academics through our research and educational endeavors. 
Learn more about UCSF Pulmonary Critical Care
Faculty           
Education            
The SFVAMC is one of three primary teaching sites for the UCSF Pulmonary and Critical Care Medicine Fellowship.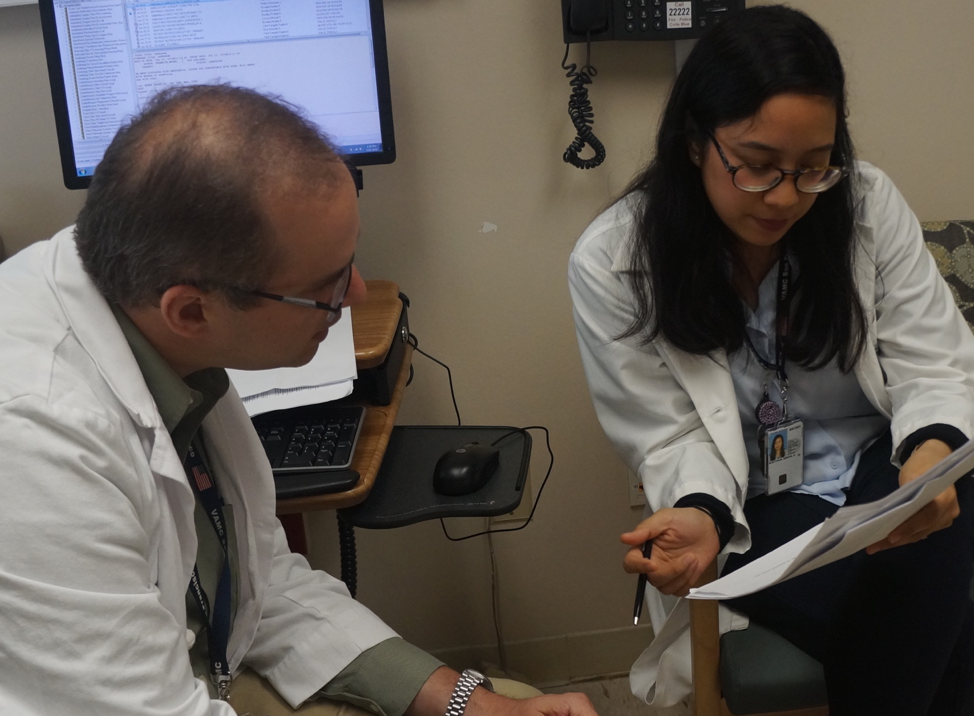 Each month, we have two fellows rotating with us on either the Pulmonary or ICU rotations. Dr. James Frank is the Pulmonary Fellowship Program Director at UCSF and the VA Site Director is Dr. Neil Trivedi.
Residents, nurse practitioners, and fellows also see patients in the weekly longitudinal chest clinic and present to attending pulmonologist.

learn more about the pulm/CC Fellowships
Patient Care
Our faculty have broad interests and have demonstrated innovation in the following areas:
Pulmonary Outpatient Clinic ​​​​
Dr. Neil Trivedi oversees the organization of this clinic.  The SFVAMC pulmonary clinic sees over 200 patients per month and cares for patients with a wide variety of lung diseases.  In addition to the general pulmonary clinic, additional rapid diagnostic pulmonary clinics are available throughout the week to help with rapid assessment of patients with possible lung cancer.   A monthly ILD conference helps to address the needs of veteran patients with interstitial lung diseases requiring advanced therapies.
SFVAHCS Pulmonary General Offices: x 22007
Intensive Care Unit 
The VA ICU is a tertiary referral center for complex critically ill veteran patients in combined a MICU/SICU/CCU.  The ICU team cares for all MICU, CCU and surgical subspecialty patients with a multidisciplinary team including residents/interns from medicine, surgery, neurology, and ED, and an ICU pharmacist, ICU nutritionist, and ICU social worker with participation by the primary nurse and assigned respiratory therapist with the critical care attendings (rotating from critical care pulmonary, critical care anesthesia and critical care surgery).  The SFVAMC is nationally recognized in the Veterans network of medical centers for having some of the best outcomes for ICU patients.  The SFVAHCS cares for a broad range of patients including post-operative care of patients with advance cardiothoracic surgical procedures including robotic thoracic surgery, CABG, and TAVR.  The SFVAHCS is the Western US referral center for deep brain stimulators for veterans with Parkinson's Disease.  Dr. Leslie Zimmerman and Dr. James Frank are co-directors of the VA ICU. 
Sleep program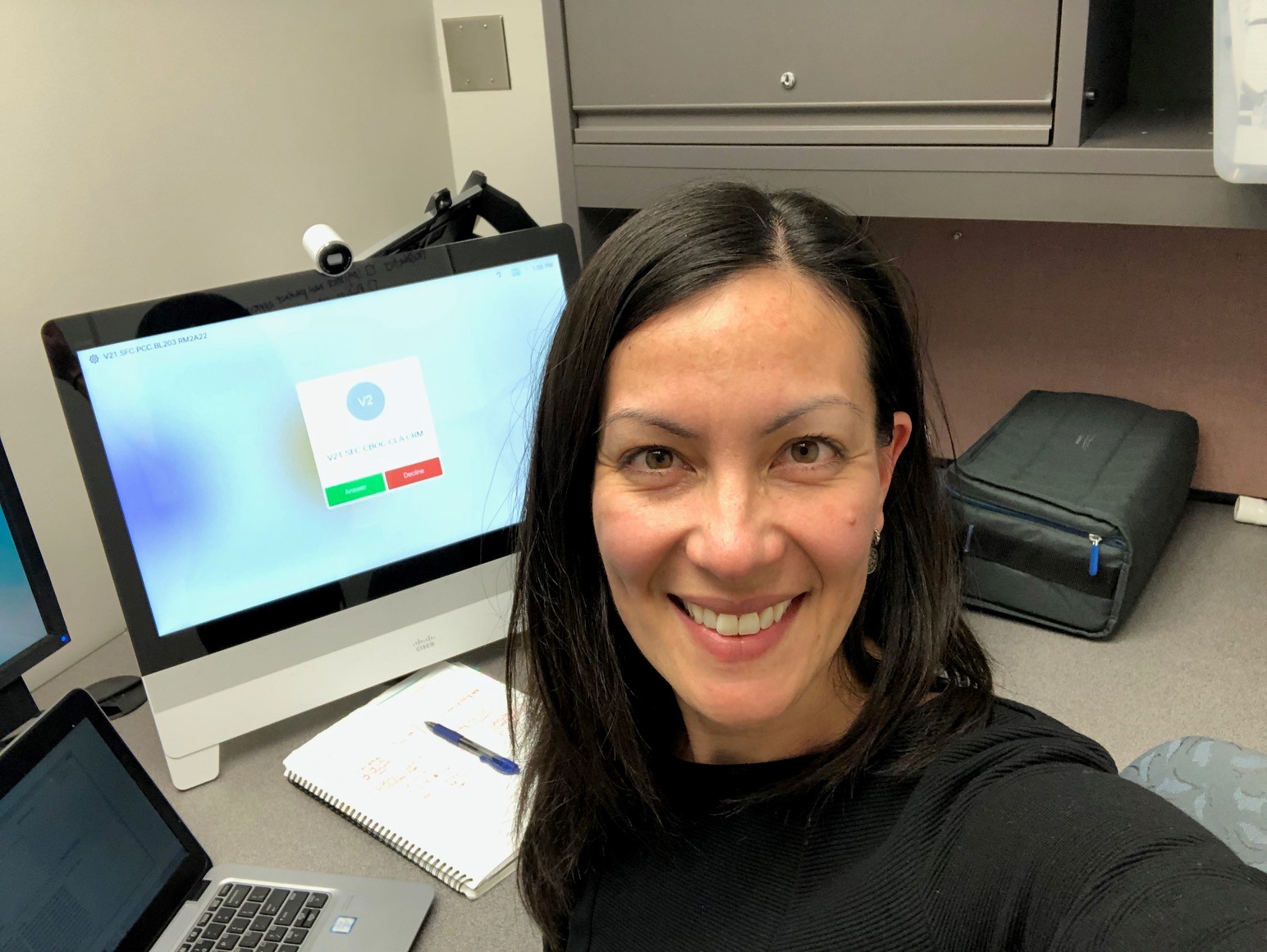 Dr. Katie Sarmiento, a Sleep Boarded pulmonary and critical care physician,oversees the Sleep Program at the SFVAMC. The SFVAMC Sleep Program provides overnight and home sleep studies, assesses patients for routine and complex sleep apnea syndromes, and provides therapeutic PAP device in a wide range of modalities. Dr. Sarmiento also heads a large (~$24 million) sleep initiative administered out of the VA Office of Rural Health, which aims to develop and pilot new approaches to the diagnosis of sleep disorders and delivery of sleep-related services to geographically dispersed veteran populations.  Dr. Sarmiento is a pioneering advocate of telemedicine, and is bringing the Remote Veterans Apnea Management (REVAMP) platform to the SFVAMC and several other VA facilities nationally.
Lung Cancer Screening
The SFVAHCS is a designated Lung Cancer Screening Site within the national VA system.  Dr. James Brown oversees this program in which primary care providers can request a consult that is reviewed by a nurse practitioner for patient education and assessment for screening.  Screened patients are followed in electronic data base.  Patients with concerning nodules can then be reviewed in the Pulmonary Diagnostic Clinic and presented at a multidisciplinary conference attended by thoracic surgery, radiology, oncology, radiation oncology, and pulmonary.
Advanced Bronchoscopy Service
Dr. Neil Trivedi oversees the advanced bronchoscopy services at the SFVAHCS, including endobronchial ultrasound and electromagnetic navigational bronchoscopy.
ALS (amyotrophic lateral sclerosis) Clinic
Drs. James Frank and Neil Trivedi oversee this multidisciplinary ALS clinic with Neurology for SFVAHCS veterans with ALS who require assistance with ventilation.  In this patient-centered clinic, patients may be seen in one clinic appointment by pulmonary, respiratory therapy for adjustments to their supportive ventilation, nutrition, and physical therapy. The SFVA is a nationally-recognized Treatment Center by the ALS Association.​​​​
Interstitial Lung Disease and Lung Transplant
The SFVAHCS Pulmonary Division cares for veterans with advanced lung diseases like idiopathic pulmonary fibrosis, hypersensitivity pneumonitis, and chronic obstructive pulmonary disease. We offer multidisciplinary evaluations, comprehensive longitudinal medical care, and referral to clinical trials and lung transplantation.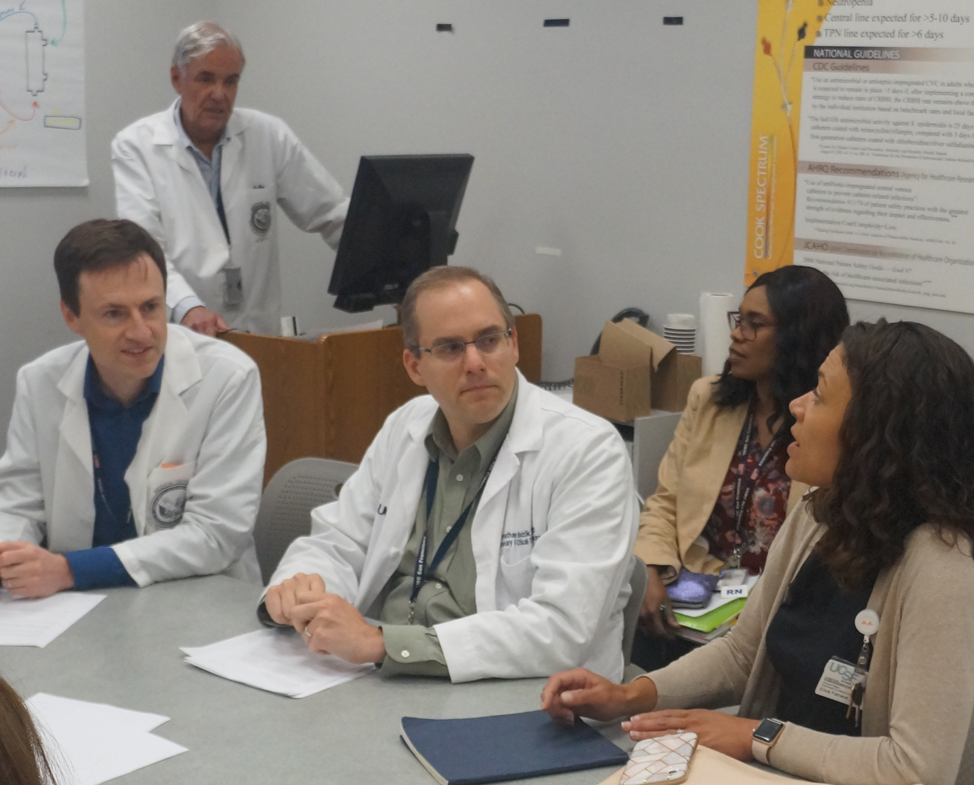 Respiratory Therapy / Pulmonary Function Lab
Dr. Meshell Johnson oversee the SFVAHCS Respiratory Therapy program of  15-20 RTs who provide respiratory therapy care for the hospital as well as support for the Pulmonary Function Lab and Bronchoscopy suite.
Experienced nurse specialists within the VA chest clinic are focused on pulmonary issues, ensuring patient comfort throughout the visit. They collect vital signs, ensure continuity of care, and provide education on lung diseases and pulmonary medications.  
Research
The SFVAMC faculty are active in basic science, clinical and translational research.
Highlights:
Dr. Mehrdad Arjomandi holds a joint appointment at the SFVAMC and the ZSGH whose current research interests examines the effects of ozone exposure on inflammation in the lungs and cardiovascular systems.  Dr. Arjomandi also studies the earliest physiological, anatomic and inflammatory changes and COPD including the effects of chronic secondhand smoke exposure. Visit the Arjomandi Lab website.
Dr. Daniel Calabrese holds a joint appointment at the SFVAMC and the UCSF Parnassus campus.  He is interested in improving outcomes following lung transplantation. His research focuses on mechanisms of innate immune inflammation during ischemic injury and within the transplanted lung. 
Dr. John Greenland holds a joint appointment at the SFVAMC and the UCSF Parnassus campus.  His research focuses on the immunology of lung transplant rejection based on airway and peripheral blood samples. Visit the Greenland Lab website.
Faculty Publication Highlights
Blagev DP, Collingridge DS, Rea S, Press VG, Churpek MM, Carey K, Mularski RA, Zeng S, Arjomandi M. Stability of Frequency of Severe Chronic Obstructive Pulmonary Disease Exacerbations and Healthcare Utilization in Clinical Populations. Chronic Obstr Pulm Dis. 2018
Arjomandi M, Zeng S, Blanc PD, Gold WM.  Increasing the Resolution of Chronic Obstructive Pulmonary Disease Definition: Lessons from a Cohort with Remote but Extensive Exposure to Secondhand Tobacco Smoke.   Ann Am Thorac        Soc. 2018 Apr;15(Supp_2):S122-S123.
Arjomandi M, Zeng S, Geerts J; Stiner R, Bos B, van Koeverden I, Keene J, Elicker B, Blanc PD, Gold WM. Lung Volumes Identify an At-risk Group in Persons with Prolonged Secondhand Tobacco Smoke Exposure but without Overt Airflow Obstruction. BMJ Open Respir Res. 2018 May 5;5
Brown J.  Lung cancer screening in the VA:  opportunities for research.  Am Thoracic Research Soc News Quarterly, June, 2018 .
Ghasemiesfe M,  Ravi D, Vali M, Korenstein D, Arjomandi M, Frank J, Austin P, Keyhani S.   Marijuana Use, Respiratory Symptoms, and Pulmonary Function:  A Systematic Review and Meta-analysis.  Annals Int Med July 2018
Goldstein LA, Colvonen PJ, Sarmiento KF. Advancing treatment of comorbid PTSD and OSA. J Clin Sleep Med. 2017;13(6):843-844.
Greenland JR, Sun H, Calabrese D, Chong T, Singer JP, Kukreja J, Hays SR, Golden JA, Caughey GH, Venstrom JM, Rajalingam R. HLA mismatching favoring Host-Versus-Graft NK Cell Activity via KIR3DL1 is associated with improved outcomes following lung transplantation. Am J Transplant. 2017;17(8):2192-2199.
Sweerus K, Lachowicz-Scroggins M, Gordon E, LaFemina M, Huang X, Parikh M, Kanegai C, Fahy JV, Frank JA. Claudin-18 deficiency is associated with airway epithelial barrier dysfunction and asthma. J Allergy Clin Immunol. 2017;139(1):72-81.
Additional Leadership Roles:
Dr. Meshell Johnson is the first Director of Faculty Diversity for the UCSF Department of Medicine to support the recruitment and retention of a diverse faculty and create a climate of equity and inclusion for the UCSF Department of Medicine.